As the weather begins to warm up, I try to spend as much time as possible outside. One of my favorite things about our apartment is our large balcony space. It may seem small to some of you, but for a one bedroom apartment, it's very spacious!
Ever since we moved into this apartment back in November, I've been dying to give our little balcony some style. Scroll down to see some simple, inexpensive additions I made to my balcony space to create a dreamy summer oasis!
This post contains affiliate links.
before and after: apartment balcony makeover
BEFORE: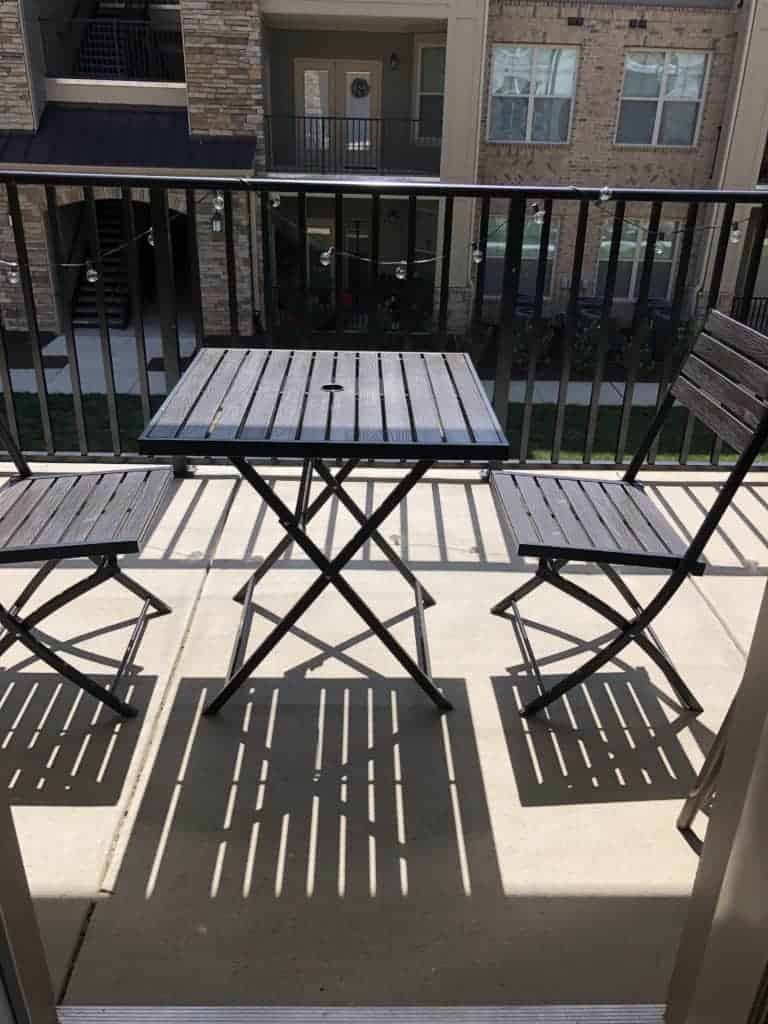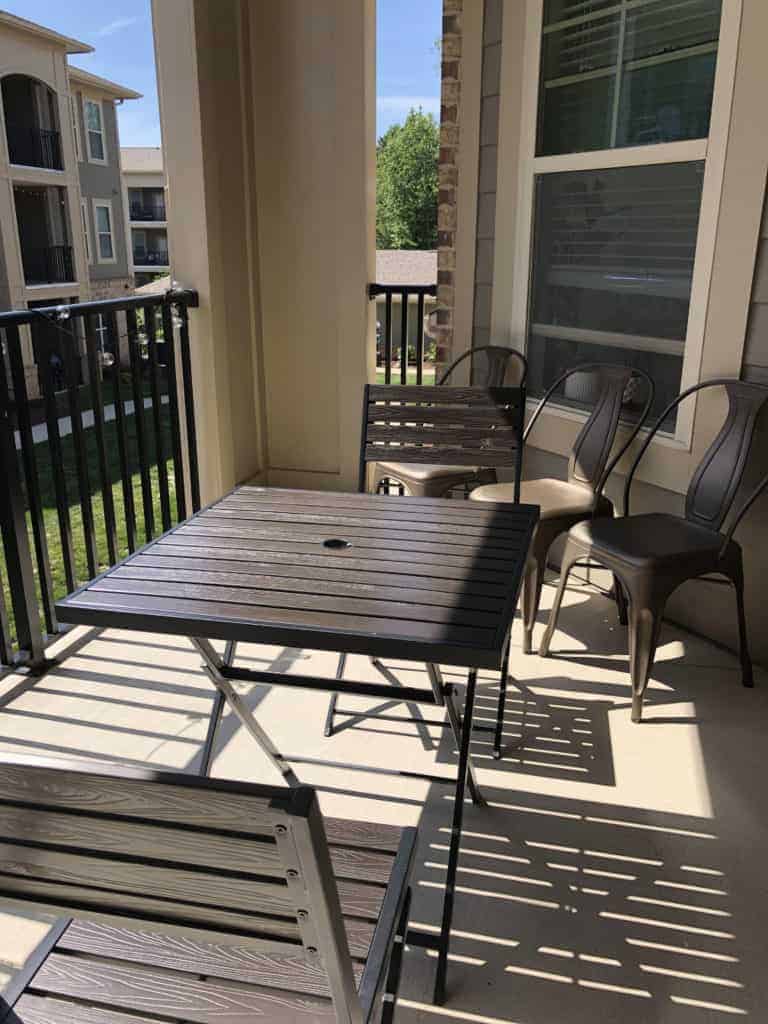 In our last apartment, the patio space was very small and full of bugs so we never spent time outside.
I had a small bistro set from home depot that I scored for $60 last year and one strand of bulb lights from Target.
I was thankful I had a few items I could build off of, so I didn't have to spend as much money.
I'll be honest, the bistro set isn't my favorite, but our budget didn't allow for new patio furniture this year. Scroll down to see how I made the set feel fresh and new with an inexpensive upgrade from Ikea!
AFTER:
To make the balcony feel more like a living space I added a cute rug with a fun pattern. The rug anchors the patio and adds some texture and interest to the plain concrete.
Shop similar items below:
I wanted some natural elements to make it feel summery, and I've been completely obsessed with rattan recently. I found the rattan lantern above at Homegoods, and it's by far my favorite accent piece!
Shop similar items below:
In my vision for this patio, I knew I wanted some big, tropical-feeling plants. I grabbed a couple of planters from Tjmaxx and found some fun plants from Wal-mart.
The last thing I added was some inexpensive chair cushions from Ikea. These were $5 each and make the patio chairs so much more comfortable!
Shop similar items below: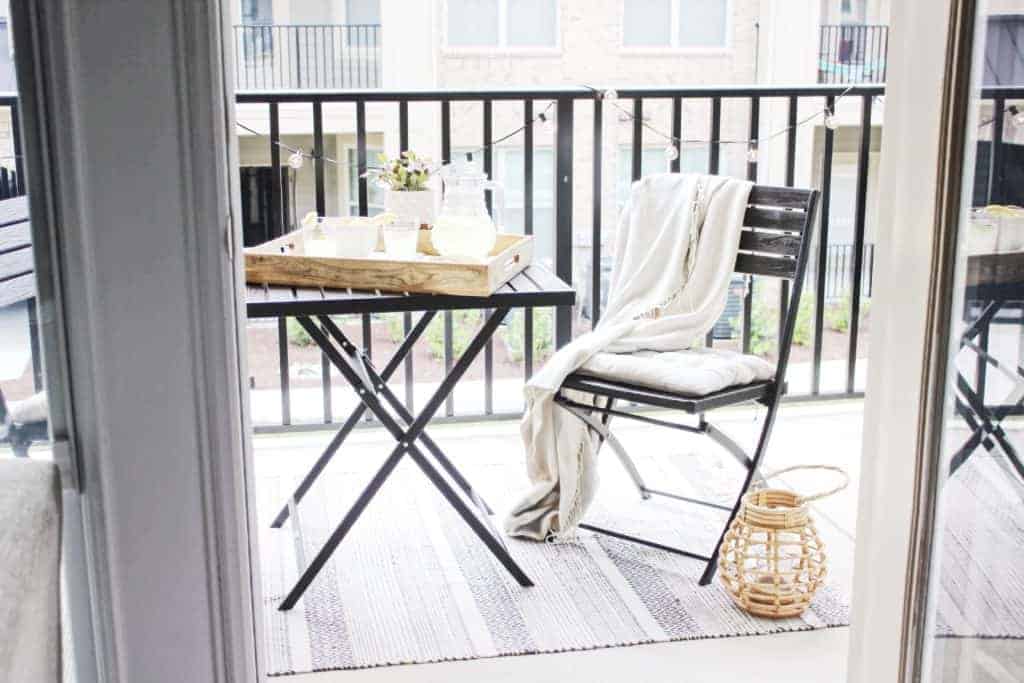 key elements for your balcony makeover:
While this was a very inexpensive balcony makeover, if you're looking to update the bare minimum to save money I would recommend two key elements:
String lighting
Rug with pattern/texture
String lighting creates that outdoor ambiance everyone desires. Additionally, it makes your patio super functional for daytime and evening use.
A rug anchors your space and creates a homey, put-together feel. As I mentioned before, it's also a perfect way to add in textures, colors, and patterns!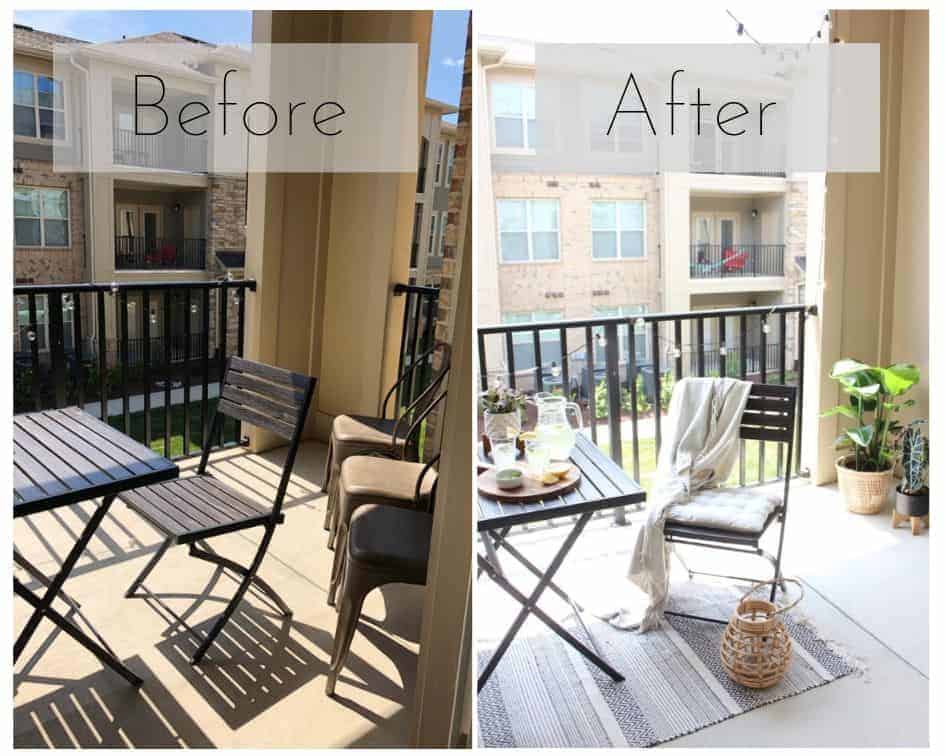 This before and after: apartment balcony makeover was so much fun and has made my outdoor space so inviting! I'm excited to spend my mornings and evenings relaxing in this refreshing space.
I hope you feel inspired by this transformation to add some style to your own outdoor space!