I'm so excited to share my 5 tips for creating an all-white bed! I've been putting together my white bedding look and thought I would share some tips I discovered along the way.
Click here if you want to see details of where I bought all my bedding items!
why white?
I know it's a bold choice for bedding. I chose white, because it's a timeless and classic look. It somehow looks crisp and cozy at the same time, and it never goes out of style. You can make white work for almost any decor style and it's great for a feminine or masculine look. White is also quite versatile so you can rotate bedding easily and mix and match in different rooms if needed. That being said, these tips are not just for an all-white bed, they are helpful for any bedding look!
5 tips for creating an all-white bed:
#1 Textures/Patterns:
A bed full of white has the potential to look blah, so one of the best ways to add interest through textures and patterned whites. I love the look of linen, so I chose this for my duvet cover and used the ruffled shams in the set for another accent. A textured quilt and linen euro pillow shams with ties on the sides add another point of interest. The cutest little pom pom accent pillow ties everything together. Even if you aren't going all white, variety in textures and subtle patterns make your bedding look interesting.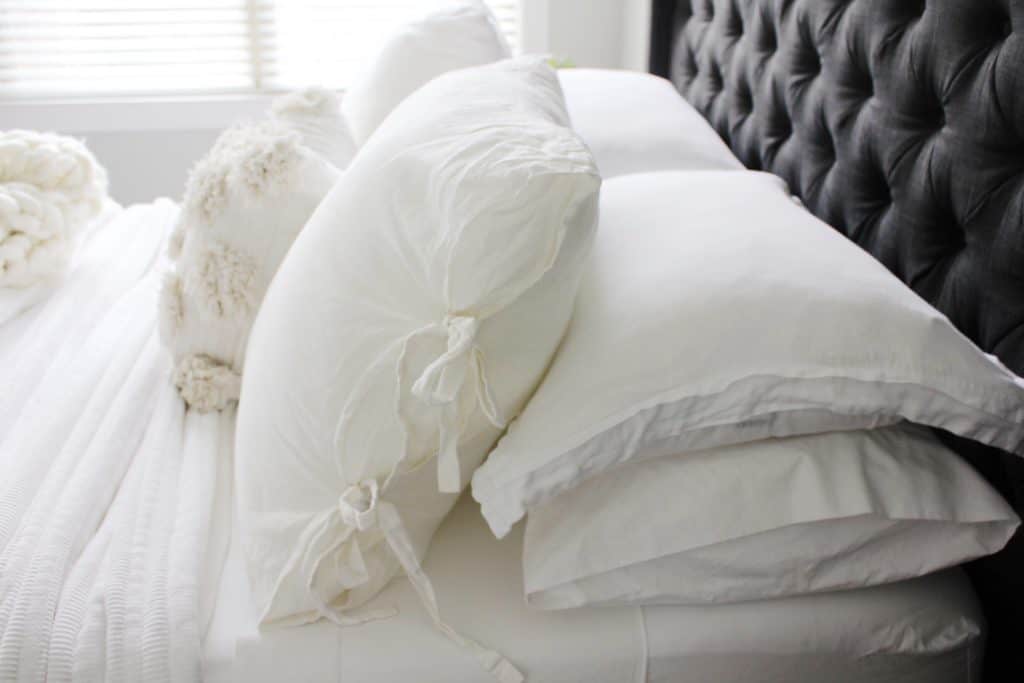 #2 Variety of shades:
Although I love plain white, adding in creams, off-whites, and even gray gives your bed some depth makes it really pop. It's hard to see in these bright pictures, but my euro pillow shams, throw blanket, and accent pillow are off white/cream. I wanted my bedding to look warm and inviting, so adding in a few off white accents brings it together.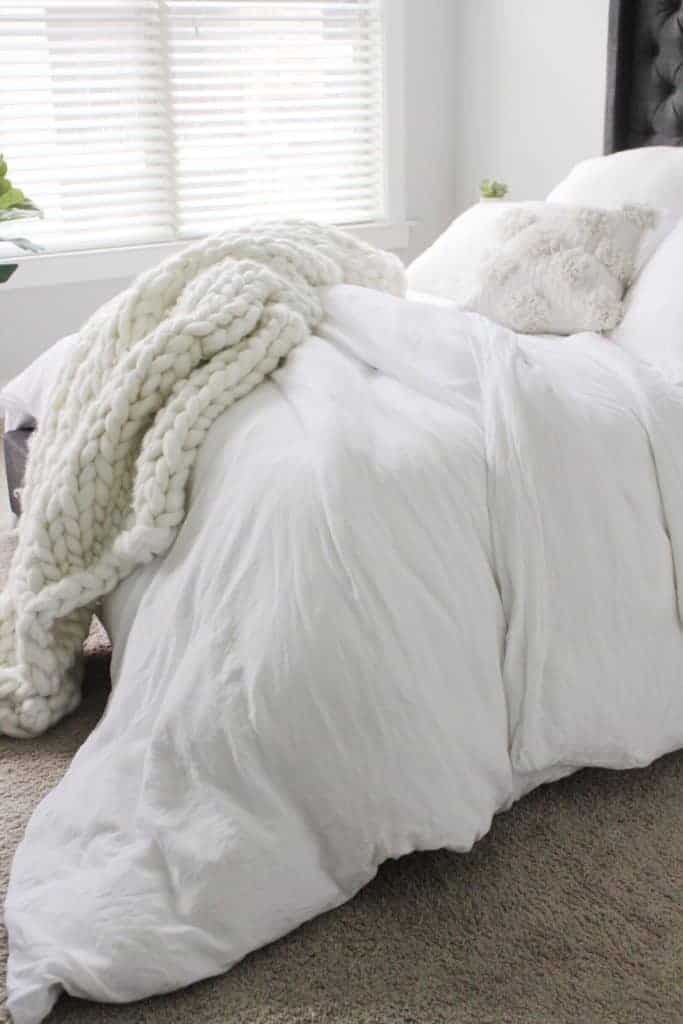 #3 Add a throw blanket:
Adding a throw at the end of the bed adds extra interest. You can change up the throw for different seasons easily changing the look of the bed. Since it's still a little chilly out, I used my hand knit blanket which gives the whole bed an extra cozy element. A throw is also a great way to add in some color if you want!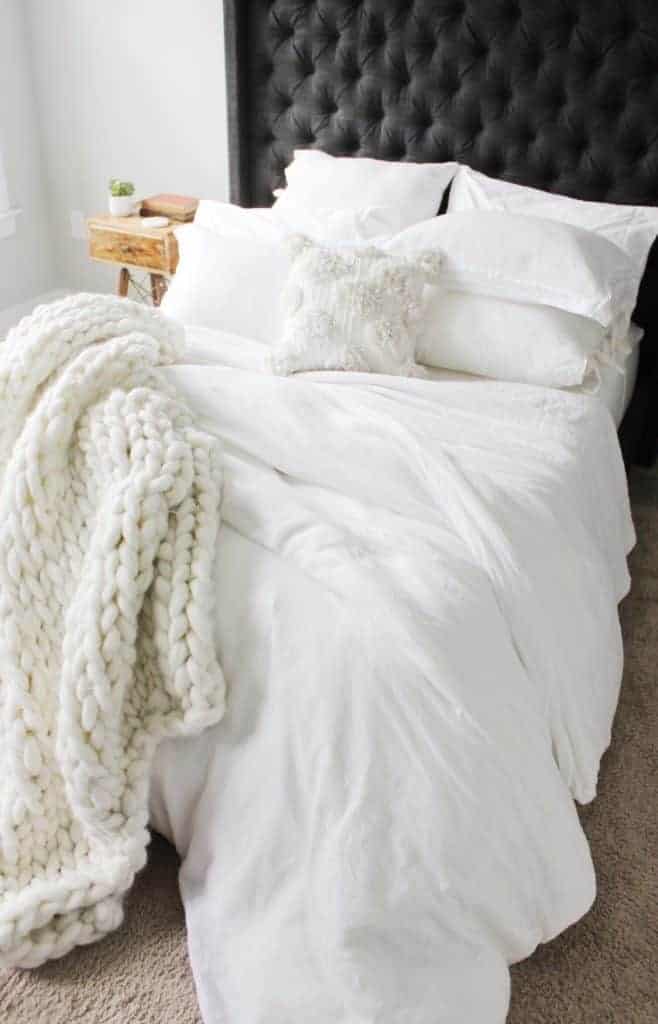 #4 Natural fiber materials:
When the budget allows, try to purchase natural fiber materials. Usually for bedding, these include linen, cotton, silk, and wool. The good news these days is that you can find natural fibers at very affordable prices. Depending on the price-point, you may be sacrificing some quality, but overall, natural fibers look higher quality. When I started purchasing my bedding, I began to read up on natural fiber vs. synthetic fabrics. Although synthetic materials tend to be more durable (because they're essentially plastic), natural fibers are so much healthier for your body. The texture/feel of the fabric is more luxurious as well. I purchased linen and cotton for my bedding. Bottom line: buy what you can afford! Even if you opt for a synthetic-natural fiber blend material, it'll give you a higher-end look and feel than a plain synthetic material would.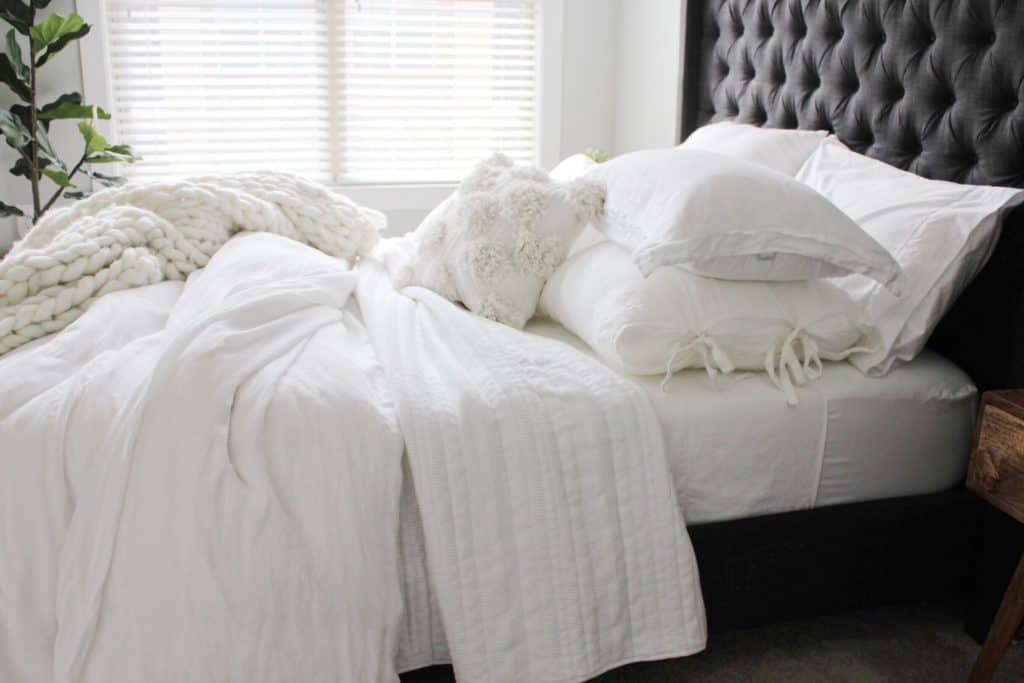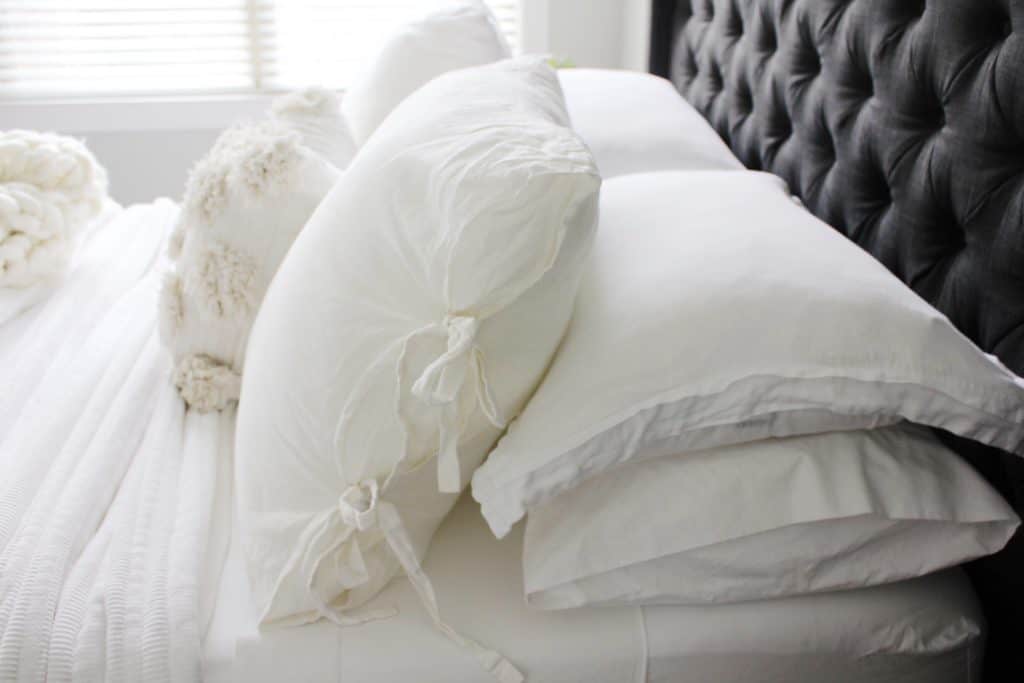 #5 Layers:
Layering is key when doing any bed, and it almost deserves a whole blog post to itself. With white bedding it helps show off the textures and patterns. This is where using my duvet, quilt, and throw all come into play. If you could only get one of those three items, I would say get the duvet because it adds a lot fullness. I typically layer sheet-quilt- duvet-throw.
Layer in pillows too! There's no rule on how many pillows you can have, so I have a total of seven; it seems like a lot, but it's really not! I have four standard pillows, two euro pillows, and a smaller throw pillow. For me, adding the euro pillows was a game changer, because they really add volume. You can stack them any way you prefer; I like changing it up all the time.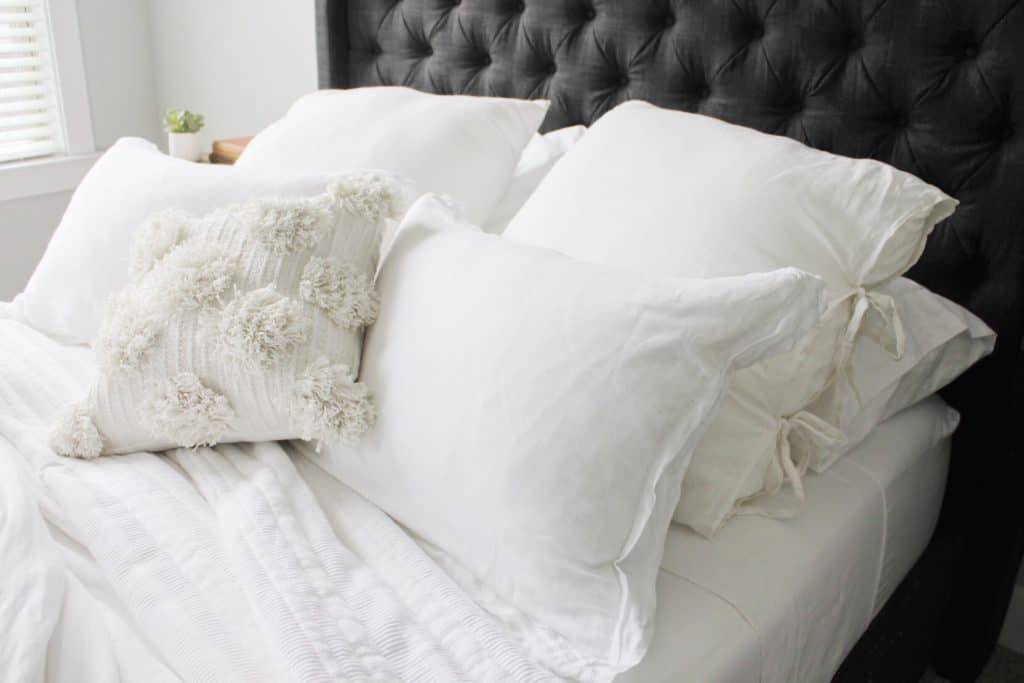 So there are my 5 tips for creating an all-white bed! If you're interested in finding out where I found and purchased all my bedding items read my post about Budget-Friendly Bedding Essentials.