Happy Tuesday! As promised, here is my guide for where I found all my budget-friendly bedding essentials. I tried to be as detailed with each product as possible without putting you to sleep. Most of these items are under $100 with the exception of the duvet insert and the quilt.
When it comes to purchasing budget-friendly bedding essentials, I tried to find the highest quality items in my price range. So, I didn't just grab the cheapest product on the market, I tried to search for quality items so I don't have to repurchase everything in a year!
This post contains affiliate links, to learn more click here.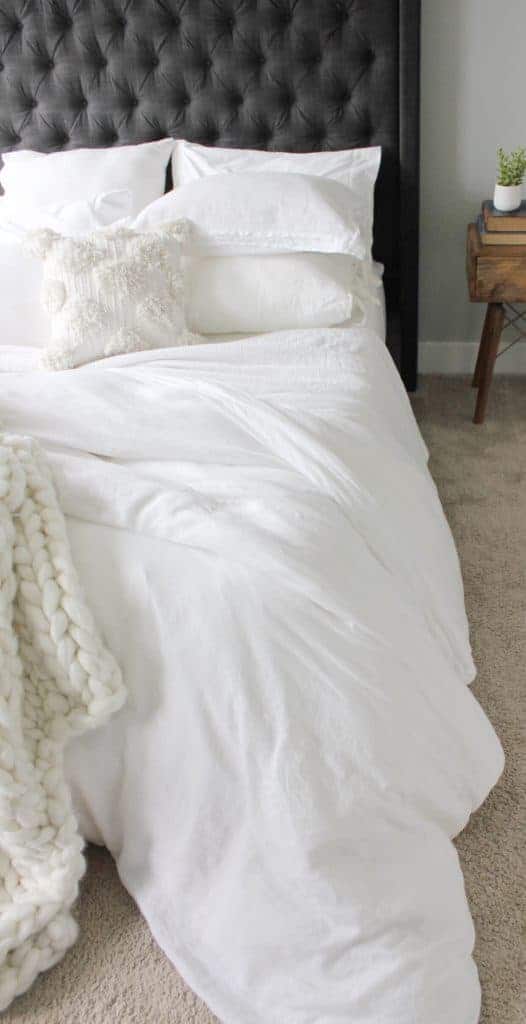 Sheets:
Supima Classic Hemstitch Sheet Set 700 Thread Count – Fieldcrest (click) – I love the Sateen feel of these cotton sheets. Two really great things about this set: the fitted sheet has deep pockets and thick elastic, and the pocket pillowcases keep your pillow insert hidden. Be aware if you purchase cotton, it does tend to wrinkle a lot, which is par for the course with cotton. Take them out of the dryer before they are completely dry and make your bed right away.

You can shop my affiliate links below for some other options with great reviews: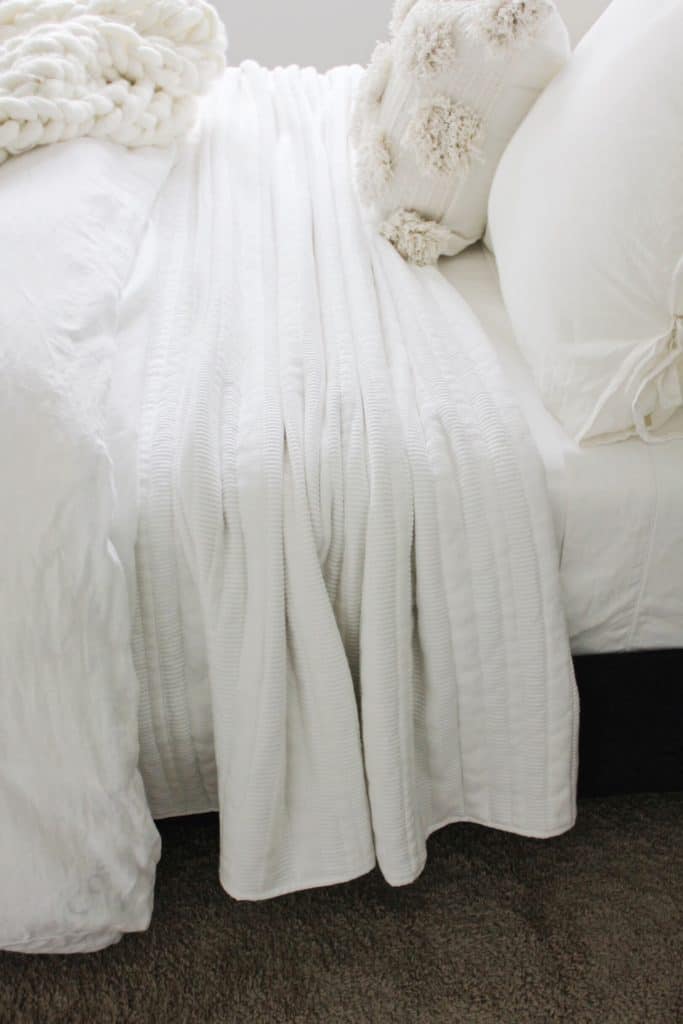 Quilt/Coverlet:
Dobby Ladder Stripe Coverlet (click) – So, I love this quilt! Full disclosure, I only purchased this from West Elm because it was on sale and I had a gift card. We typically use this quilt and our flat sheet when we sleep. It's very warm! I also love that it's 100% cotton.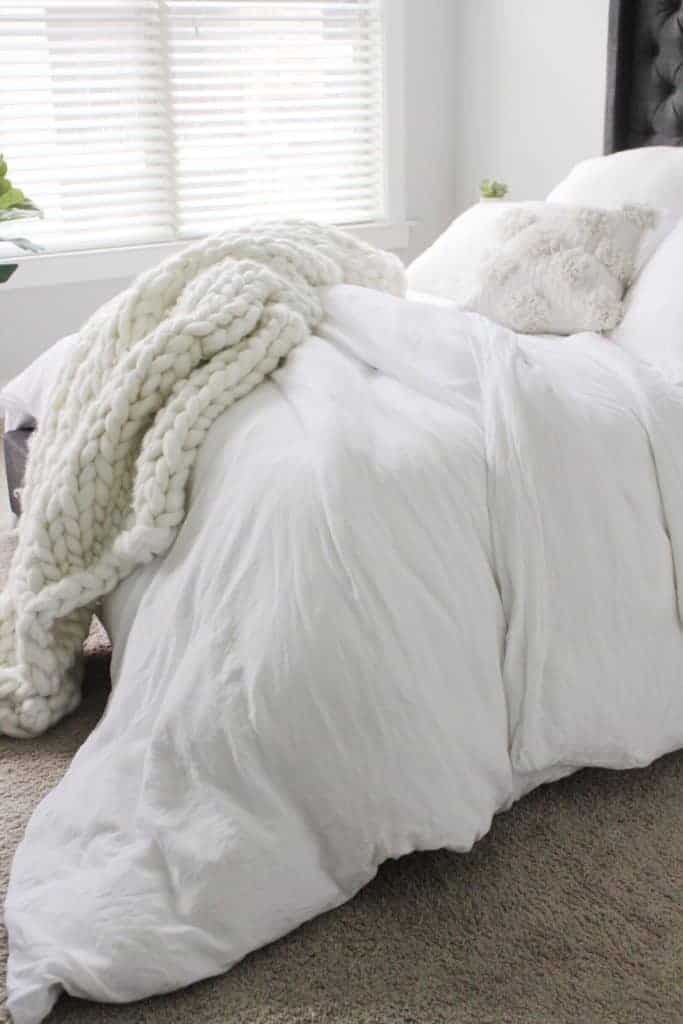 Duvet:
Duvet Cover and Pillow Shams (click) – This set is 100% linen and extremely affordable! For the price point, the fabric is very soft and it comes with two pillows shams.
What I love: It has ties in all four corners to secure the duvet insert. It's very soft and it comes with matching pillow shams so that's one less thing to buy!
Things to consider: The white color is a little on the thin side, so if you have a patterned duvet insert you will probably be able to see it through the duvet cover. I don't have this problem because my duvet is totally white.
You can shop my affiliate links below for some other options with great reviews:
As a quick side note: if you are more of a comforter than a duvet person, it may seem frivolous to buy a cover and insert. The reason I decided to make the switch was because it makes washing SO much easier, especially if you like white bedding, or you eat in your bed (guilty). If you get a stain on your duvet cover it's like taking a giant pillow case off and washing it. It's easier to soak/treat stains and you don't get a weird lumpy looking comforter after washing.
Duvet Insert:
Duvet Insert (click) – This inexpensive duvet is a super great deal for a feather down insert. It has loops in each corner to attach your cover and keep it in place. I purchased the queen sized duvet initially and sent it right back and reordered the King size. Most queen inserts are for a full/queen duvet cover and it doesn't fill out a queen cover very well. If you want a more plush fit, size up and go with the King insert!
You can shop my affiliate links below for some other options with great reviews:
Pillows/Shams
Inserts:
Standard Sleeping Pillow Insert – We were in need of some new sleeping pillows. I thought these were a little too soft at first, but I've adjusted to them. Purchased the 20×30 size.
Standard Pillow Insert – These pillows get super fluffed up, so I use them in my linen pillow shams, and they look amazing. I prefer feather pillows whenever possible because they're easier to fluff up and give that overstuffed look. I purchased the 20×30, and they filled out the shams perfectly.
Euro Insert – So, I don't know if this particular brand is really worth the cost, but they were one of the few pillows I could find in a 28×28 size to fill out my 26×26 pillow shams. They just seemed a little low quality and overpriced for a poly-filled product. That being said, they fill out a euro-pillow sham very well. They come shipped completely flat, so you just have to work with them a bit to redistribute the filling into the corners of the pillow, so they look filled out.
Sham:
Euro Shams – I had the hardest time finding euro-pillow shams that I really loved and that were in stock. I honestly went with these because they are hand made from Ukraine, and I could use one of my gift cards for them! I also loved that they were 100% linen and had cute ties on the side. If you can't see in the picture, they also have a pocket design to hide the pillow insert. The fabric gets softer with washing, and they fit my pillows perfectly.
Shop my affiliate links by clicking the pictures below:
Accent:
Throw Pillow – This little pillow is my favorite! I think it looks like something from Anthropology, but without the expensive pricetag.
Throw Blanket
Chunky knit blanket – You can see my tutorial on how to make this here!
Okay, I know that was a lot of information to take in! Thanks for reading about my budget-friendly bedding essentials, and I hope this was a help as your purchase your bedding products!