---
This post contains affiliate links.
If you're a plant killer like me then you will love this faux fiddle leaf tree from QVC!
A Fiddle Leaf tree brings a tropical vibe to any space. They also work well for any style home, from traditional to modern.
I had been on the hunt for a faux fiddle leaf because a live fiddle leaf requires a decent amount of sunlight to thrive. With apartment living, you never know what lighting you'll end up with.
We have moved around a lot in the last few years and typically our apartments have a lack of natural sunlight.
If you're trying to add some earthy elements to a low light room I can't recommend this little tree enough!
faux fiddle leaf tree from QVC
I have shopped so many places for a Fiddle Leaf tree that didn't look super fake and wasn't extremely expensive either.
Of all places to find a Faux Fiddle Leaf Tree: QVC. The typical price range I have found for these faux trees is $79-$150. This QVC tree was only $58.50 (5′ size)! So inexpensive for a faux tree and it looks so realistic.
coupon code
If it's your first time ordering through QVC, they always offer a new customer discount. It's typically a $5 or $10 discount. This little perk will essentially cover the shipping and handling.
faux fiddle leaf tree review
Since I typically like to know all about an online product before I purchase sight unseen, I thought I'd give a little review for you.
dimensions + structure
I chose to purchase the 5′ tree, although it also comes in 4′ and 6′ options.
The 5′ fig has three branches: one main stem, and two smaller ones branching off it. All the leaves and branches have wire in them so they can be adjusted and positioned where you want.
The tree was packaged well and came in a long box. All the branches were folded in an upward direction. It was super easy to readjust the branches.
leaves + color
The leaves are quite realistic. They are large and over-sized just like the real thing. They are thick and more matte than shiny and have a wrinkled appearance similar to a real fiddle leaf.
The coloring and texture of the tree trunk look like real bark. The leaves are a deep green color, and the backside of the leaves is a close match.
I've seen some trees where the backside of the leaves are bright green, and you can tell right away that it's fake. Not so with this one!
base
The one and only downside to this beautiful little tree is the extremely tiny base. Because it's so small it needs to be in a secure base so it's more stabilized.
I wanted to use a basket, but because the basket doesn't provide a flat surface to sit on it was tipping over.
I ended up buying a cheap plastic planter from Walmart and put the small base in that pot and poured Mod Podge around it to cement it in. This stabilized it enough to stand securely in my basket.
finding a display planter + filler
Since the faux fig tree is so inexpensive, there's more wiggle room in the budget to find a plater or basket you really love to show off your fig!
I love how baskets give a boho eclectic vibe to my space, but a mid-century modern plater looks amazing too!

baskets
I love shopping at World Market when they run a 20% off sale on baskets. They have a great eclectic selection. I have also ordered many baskets from Amazon. I think Amazon probably has the most affordable options if that's what you're going for.
planters
For planters, I have always had the best luck shopping at Tjmaxx or Target. However, it's hard to find large planters from those stores especially when it's the offseason. Amazon has large, stylish pot options all year round and their pricing is typically unbeatable.
filler
Finally, you may still feel the need to fill in the basket or planter to make the tree look more realistic. I would suggest using potting soil or just filling it in with Spanish Moss. Spanish moss is less messy and very inexpensive.
---
SAVE THIS PIN FOR LATER!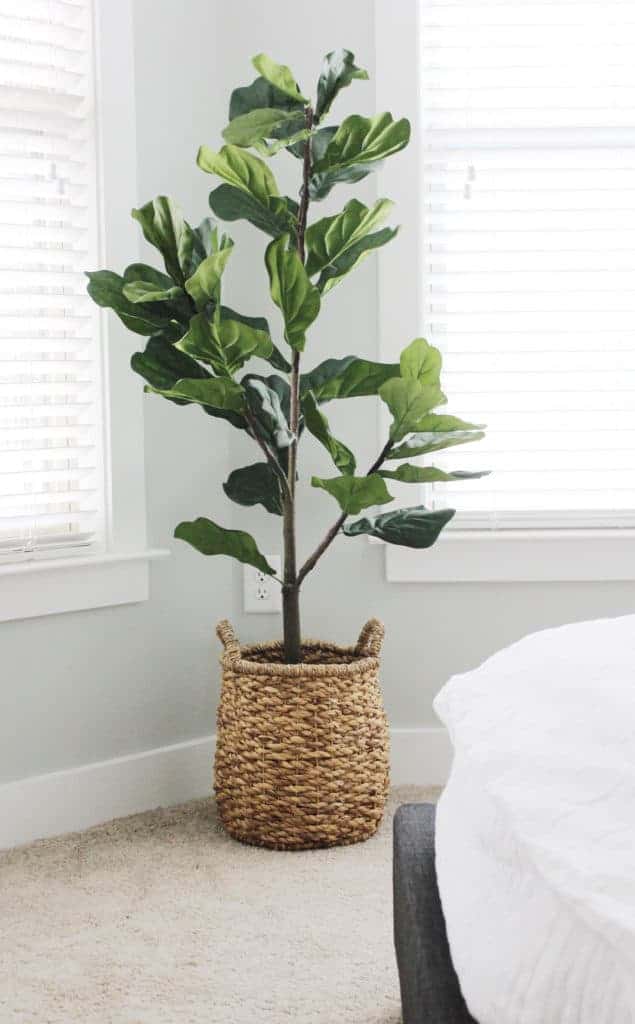 As you can see, I'm obsessed with this faux fiddle leaf tree from QVC! If you have this tree I would love to hear what you think about it! Comment below!
---
you may also enjoy
Interior Design Tips for Small Spaces