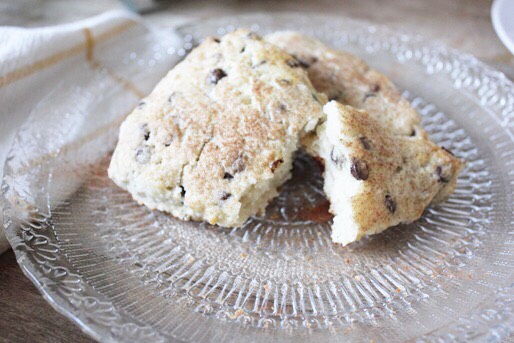 I had all the fall feels today making my mom's amazing chocolate chip scones. I LOVE fall and everything about it. Football, baking, cozy sweaters, boots, crisp weather, and coffee all day long. I definitely bake more than usual during the fall and winter just, because it make me feel so cozy, and it warms up the house.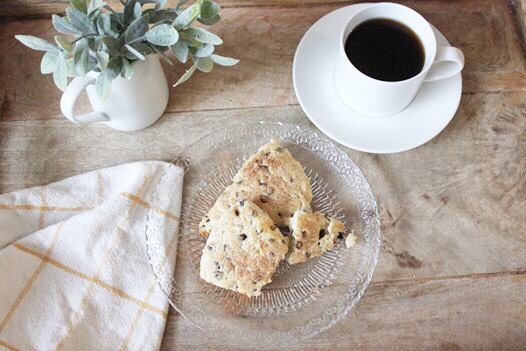 These scones are perfect for any occasion. Jordan and I had a morning wedding with brunch and espresso bar, because we are obsessed with breakfast food. My mom made these scones for the bread baskets on each table, and they were absolutely amazing. These scones are SUPER moist. Ever had a dry scone that crumbled apart? Well, no worries here, the key ingredient is buttermilk which adds a lot of moisture to the scone. NOTE: I have yet to attempt a gluten free version of these, so I can't vouch for how they would turn out with gluten free flour or other flour substitutes. A quick tip for the cinnamon and sugar topping is to use a larger granule sugar, like sugar in the raw, instead of just white sugar. My mom always uses the larger granule, and I think it just adds a little finesse. I didn't have any on hand when I made these, but it's definitely my preference.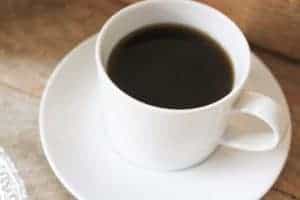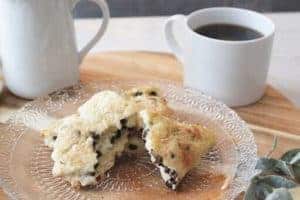 This is one of my favorite comfort foods, because it reminds me of weekends coming home as a college student, going downstairs on a cold Wisconsin morning, and seeing these treats on the stove. So pour yourself a hot cup of coffee and enjoy this soft scone filled with melted chocolate. Doesn't get better than that. I hope you enjoy them as much as I do!